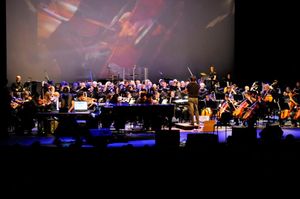 THE HOME OF EPIC MUSIC
Imperativa Records was founded in 2006 by award winning producer and composer Yoav Goren.
Imperativa is dedicated to the exposure and promotion of the Epic Music genre.
Epic music is characterized by its grand and powerful sound. It often features a large orchestra, choir, and electronic elements. Epic music is frequently used in film soundtracks and video game scores to create a dramatic and emotional atmosphere, but also increasingly in music that stands on its own meant to inspire cinematic associations in the listener. Epic Music strives to evoke senses and stories of struggle, heroism and triumph.

From cinematic rock (Globus), to hybrid orchestral trailer music (Trailerhead) to modern film score composers (Larry Groupé),
Imperativa supports artists who are passionate about creating emotional, impactful, evocative music that is borne out of the need
to connect with an audience about our shared human condition. 
IMPERATIVA RECORDS EMAIL LIST SIGNUP